We're headed to EdSurge Summit 2016!
EDUonGo is going to EdSurge's "Seattle Tech for Schools Summit 2016" for their All Educator Day on December 3, 2016! Yep, that's tomorrow—and needless to say, we are very excited to attend. We're equally elated to be going with our partner, Jason Rukman of Ucodemy.
EdSurge is the outlet we turn to for the the latest, greatest news in the education technology industry. As an independent community, Edsurge is a top leading resource for what's up-and-coming. The info we and Ucodemy glean from their blogs, webinars and podcasts give us the cutting edge we need to effectively work with districts, schools, teachers and students.
The Tech for School Summit Educator Day will primarily cater to teachers— administrators will be granted access as well. Attendees will have the opportunity to browse booths and select the companies they want to spend follow-up time with in 20 minute sessions later in the day. What's great about Edsurge's "no swag" policy is that teachers will be able to browse booths without the tedious distractions that are often seen at other conferences. They can keep focused!
Will you be at the event? Be sure to stop by and say "Hi" to Jason at Ucodemy's booth! He can tell you more about Code.org's Hour of Code—a global movement that's reaching tens of millions of students worldwide in more than 180 countries.
Some of the classrooms Ucodemy has brought the Hour of Code to include Riverview Elementary. In 2017, Jason is headed to Detroit, Michigan to work with Clintondale Community Schools. Superintendent, Greg Green, has partnered with Ucodemy to organize the Hour of Code for all of the Clintondale Middle School students!
Powered by EDUonGo, Ucodemy has created six separate Hour of Code activities in 2016 alone. You can access and try any of the following activities from their site at http://hoc.ucodemy.com. You can also access them by clicking the image below. Students can also select from many other Code.org activities listed at http://code.org/learn
The summit just so happens to coincide closely with CSEdWeek—providing Ucodemy another excellent opportunity to connect with educators who need more information about the Hour of Code and how to facilitate it in their classroom.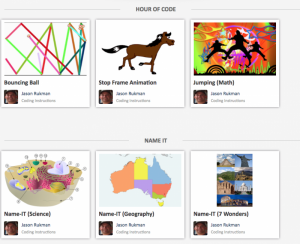 We are planning to showcase one of our activities inside ITCH at the conference for Augmented Reality. If you're going to the event, stop by and try it out! If you have chrome or Firefox and a webcam you can try it out here right now!